Face Masks for Acne Prone Skin Natural Products for Oily Skin to Unclog Pores by Mattify Cosmetics
$

16.00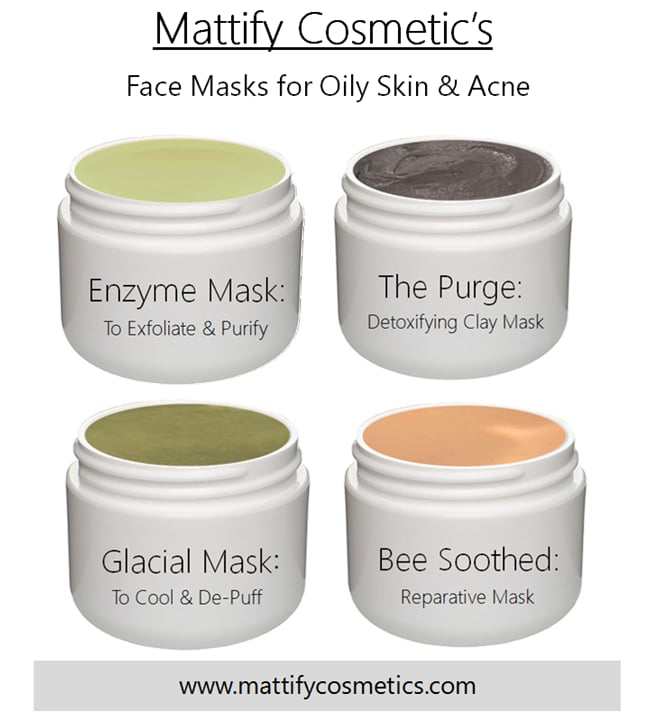 A combination of makeup, environmental toxins, and excess sebum can clog pores to the point where acne breakouts form - leaving you with an inflamed, irritated, bumpy complexion. Mattify's face masks for oily skin & acne are designed to unclog pores, allowing skin to obtain vital oxygen. As impurities are removed, oxygen enters pores, and acne bacteria begins to die.
ENZYME MASK: Lemon, Papaya, and Pineapple gently dissolve dead skin cells to prevent them from clogging pores, while Ginger goes to work improving circulation. The antioxidants in Green Tea and Licorice Extract combat inflammation and balance oil production, while Laurel Berry gets to work destroying acne bacteria. Can be used 1x per week.
THE PURGE:
Our blend of activated charcoal plus 3 natural clays vacuum impurities from pores, to remove and prevent severe congestion. Kelp Powder detoxifies and exfoliates old cells, while Basil, Ravensara and Rosemary heal existing blemishes, remove toxins, and destroy acne bacteria. After rinsing away this mask, you will see that blackheads have surfaced for easier removal. Can be used 1x per week.
GLACIAL MASK:
Puffy, irritated skin can benefit from the cooling ingredients of our Glacial Mask. Peppermint and Aloe Gel encourage puffiness to subside, while Passion Flower Extract calms inflammation. Marine Glacial Clay acts as a magnet - drawing impurities out of pores and encouraging improved oxygen circulation. Skin feels cool, calm and refreshed! Can be used up to 2x per week.
BEE SOOTHED:
Bee Soothed is a reparative mask that calms acne prone skin, allowing it to absorb beneficial ingredients that quell inflammation. Manuka honey gently heals breakouts, and reduces the chance of scarring. Tea Tree and Cypress Oil combine to reduce oil production and speed up healing time for breakouts, while Chamomile Oil calms redness and irritation. These intensive healing properties, make Bee Soothed the perfect mask if you currently have active breakouts. Can be used up to 2x per week.
ADDITIONAL MASK INFORMATION:
All masks except "BEE SOOTHED" (due to its Manuka Honey content) are vegan. Each 2oz Jar contains enough for 12-15 full-face applications. All masks are made in small batches, so they remain fresh and do not expire for 1 year after purchase.
FREE Shipping in USA.
Mattify's Mask Line does not contain Parabens, Sulfates, Mineral Oil or Jojoba Oil - which can be extremely irritating to acne prone skin. Instead they are composed of natural fruit oils, essential plant oils, aloe vera, witch hazel, glacial water, and naturally occurring clays. In addition, Mattify Masks never contain synthetic dyes or perfumes, carmine, mica, tin oxide, aluminum, more than 1% glycerin, more than 5% water, or more than .05% alcohol. This means they won't over-dry your skin, plug pores, or irritate breakouts.
To view more information, visit the main Mattify Cosmetics Mask Bar page at:
http://www.mattifycosmetics.com/mattify-mask-bar.html